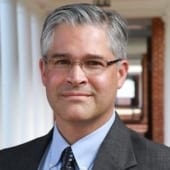 Director; Business Roundtable Institute for Corporate Ethics
Brian Moriarty is the director for the Business Roundtable Institute for Corporate Ethics, an independent business ethics center housed at the University of Virginia, which operates in partnership with Business Roundtable – an association of chief executive officers of leading U.S. companies working to promote sound public policy and a thriving U.S. economy. In his role as director, he is responsible for leading market-facing activities with corporate and partner association audiences, as well as serving as the primary spokesperson of the Institute.He is also an assistant professor in Communication and director of the Institute for Business and Society at the University of Virginia's Darden Business School, where he teaches in the full-time MBA program.
He is the author of several articles, chapters and reports on business ethics and business and society issues. His most recent book, Public Trust in Business from Cambridge University Press, provides business leaders with insight into the creation and maintenance of this critical asset. His articles on public trust in business and government have been featured in publications such as The Washington Post and Forbes.
Moriarty was selected as one of the "Top 100 Thought Leaders in Trustworthy Business" by Trust Across America from 2011 to 2014. Since 2008, he has served on the advisory council for Ethisphere Magazine's list of the "100 Most Ethical Companies." He has spoken at a variety of business and academic forums, including the U.S. Chamber of Commerce, the Society of Business Ethics, the Arthur W. Page Society, the Institute for Public Relations, Congress for Free Markets and the Culture of Common Good, the Rotary Clubs of New Jersey and the Tuck Symposium on Communications.
He holds a B.A. in political science and English literature from Boston College, an M.A. in religious studies from Wake Forest University and a Ph.D. in religious studies from the University of Virginia. His dissertation, Dante's Theory of Signs and the Warping of Language, examines the poet's ideas about the relationship of language to human actions and growth.
His research interests include: the role that narrative plays with respect to perception; public trust in business; reputation and intangible assets; and coaching, practice and performance excellence.
Moriarty lives in Charlottesville, Virginia, with his wife and two sons and enjoys coaching youth baseball and basketball. He serves on the board of the Carson Raymond Foundation, a nonprofit organization dedicated to giving every child the opportunity to experience the joy of youth sports.