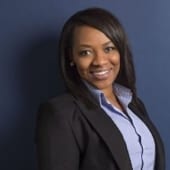 Kellye Gordon
Vice President, Ethics & Compliance, VF Corporation
Kellye Gordon is Vice President, Ethics and Compliance and Legal Operations at VF Corporation. She is responsible for building global strategic systems to help VF's more than 50,000 associates understand how to adhere to our complex compliance requirements while living their values in their everyday work. In addition, she manages thedevelopment of a global Legal Operations function to create a more efficient and effective legal service delivery mechanisms throughout our company.
Since joining VF in 2013, Kellye has developed and launched the company's award-winning global Ethics and Compliance program, expanded VF's Ethics Helpline, developed engaging training and awareness activities, and helped elevate VF's profile by achieving status as a World's Most Ethical Company® honoree three years in a row.
Prior to joining VF, Kellye lived in Johannesburg, South Africa, leading the Africa legal department of a global engine manufacturer. During her tenure, she spearheaded a unique minority summer intern program that exposed law students to working in-house and at major law firms. Previously, Kellye practiced law at a major Midwest law firm, focusing on complex product liability and employment law.
Kellye currently serves on the board of the Greensboro, North Carolina Boys and Girls Club. She previously served on the boards of numerous community-based organizations whose mission is to enrich the lives of women and children including Dress for Success, Habitat for Humanity and Sheltering Wings, a battered women's shelter.
Kellye holds a Bachelor of Science in Public Affairs from Indiana University, and a Juris Doctorate degree (cum laude) from the Robert H. McKinney School of Law at Indiana University.