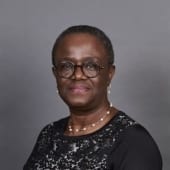 Chief, Intergovernmental Relations & Africa, UN Global Compact
As Chief of Intergovernmental Relations & Africa, Olajobi Makinwa leads high-level interactions with Governments to strengthen relations and enhance understanding of the UN Global Compact. She aligns priorities of Governments and regional inter-governmental bodies with key directions of the work of the UN Global Compact.
During her tenure as Chief of Transparency & Anti-Corruption, Ms. Makinwa successfully led the development of numerous UN Global Compact projects on transparency and anti-corruption, notably the Siemens Initiative Project on Collective Action in the fight against corruption.
Prior to joining the UN Global Compact, Ms. Makinwa was the Executive Director of Amnesty International South Africa. Previously, she served as a Legal Officer with the United Nations Environment Programme (UNEP) in Kenya, and with the UNEP Regional Office for Europe in Switzerland.
Ms. Makinwa has consulted for various UN Agencies as well as the Human Sciences Research Council in South Africa. She is also a member of the International Bar Association and the American Society of International Law.
Ms. Makinwa holds a law degree with honours (LL.B Hons) and a Master of International Law and Diplomacy from the University of Lagos. She was called to the Nigerian Bar as a Barrister and Solicitor of the Supreme Court of Nigeria. Ms. Makinwa completed further postgraduate studies in Business Leadership at the University of South Africa.