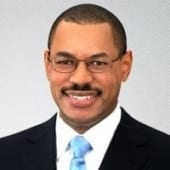 Burt Fealing 
Executive Vice President, General Counsel & Corporate Secretary, Southwire Company
Burt M. Fealing is the Executive Vice President, General Counsel and Corporate Secretary for Southwire Company, North America's leading manufacturer of wire and cable used in the distribution and transmission of electricity. With more than $5 Billion of revenue, Southwire manufactures and supplies wires and cables for residential, commercial, mining, industrial, transmission, substation, distribution, renewable, and original equipment manufacturer markets in North America.
Prior to joining Southwire, Fealing served as the Senior Vice President, General Counsel and Secretary at ITT Corporation (NYSE:ITT) in White Plains, NY. ITT is a high-technology engineering and manufacturing company with $2.5 Billion in revenue operating in 125 countries.
Fealing joined ITT in 2010 from retail grocery provider SUPERVALU INC, where he served as vice president, corporate secretary and chief securities counsel. He previously held numerous leadership roles at Verizon Communications, including serving as the general counsel for one of its businesses. Fealing has extensive experience advising on board of directors and corporate governance issues, as well as federal securities law and regulatory compliance.
He earned his Bachelor of Arts degree in economics with honors and psychology from Williams College in Williamstown, Mass., and received his Juris Doctorate from Harvard Law School in Cambridge, Mass.