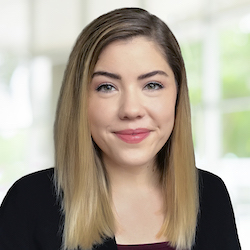 Cassidy Davis
Client Success Manager
Cassidy Davis is the Client Success Manager for the Business Ethics Leadership Alliance.
Prior to joining Ethisphere, Cassidy spent 15 years in the hospitality industry. Her last role was at The Ritz-Carlton New York, Central Park as the Guest Recognition Coordinator. As part of their legendary Guest Relations team, she played a key role in creating unique, outstanding guest experiences and maintaining the property's Forbes Five-Star status. She received numerous awards and was a nominee for the coveted J. Willard Marriott Award of Excellence.
Outside of work, Cassidy pursues acting (theater/tv/film). She lives in New York City and enjoys immersing herself in any kind of art, reading, and spending time with family.
She holds a Bachelor of Music in Commercial Vocal Performance from Belmont University and completed the 2-Year Meisner Acting Conservatory at Maggie Flanigan Studio.