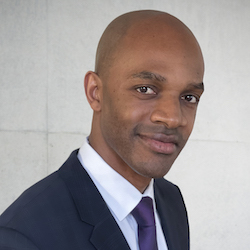 Omar Boothe
Director, Strategic Accounts
Omar is a Director of Strategic Accounts with Ethisphere. He partners with companies to grow the Business Ethics Leadership Alliance(BELA) community, advance ethical culture, and supplement code of conduct and employee training with technology.
Prior to joining Ethisphere, Omar spent over fifteen years in the pharmaceutical industry developing and nurturing consultative partnerships across a variety of medical specialties. He is devoted to building lasting relationships with Ethisphere's clients and joining companies on their journey towards diversity, inclusion, and equity.
In his spare time, Omar serves on the leadership team of a non-profit organization in New Jersey committed to serving the children in our communities. He holds a BA in psychology from Montclair State University.
Omar resides in New Jersey with his wife and three kids. They enjoy spending time with family, traveling, and cheering on the NY Knicks.