ETHICAL CULTURE / LEADERSHIP
Integrity vs. The Virus
Rady Johnson, EVP and Chief Compliance Officer at Pfizer and Beth Holly, SVP, AGC, and Chief Compliance Officer at Regeneron Pharmaceuticals, shine a light on how their companies leaned on their culture and values to provide unprecedented transparency and earn the public trust in a time of heightened stakes and scrutiny. This video is a recording of a panel from the 2021 Global Ethics Summit.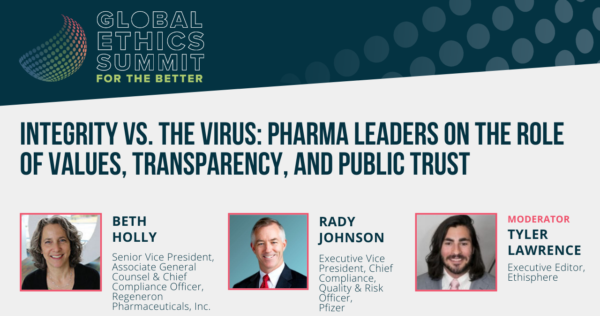 Masterclass | Ethical Culture Series
Join us for a complimentary Ethisphere Masterclass series focused on all things Ethical Culture! Over the course of two sessions in May, our team of experts will share best practices and practical strategies to elevate your ethical culture, reduce risks, and strengthen your compliance program.