 Introducing Ethisphere's New Resource Center
AUTHOR:
Alina Ruzmetova
Marketing Manager
For years, the Ethisphere community has inspired us to be better, never settle, and evolve what good looks like. That inspiration comes in many forms. Conversations at roundtables, summits, and forums worldwide. Feedback and ideas from our Business Ethics Leadership Alliance (BELA) community. Data and insights we learn from the World's Most Ethical Companies.
We've always emphasized the importance of sharing this knowledge with ethics, compliance, culture, and business professionals. Whether at our annual Global Ethics Summit, the Ethisphere Magazine publication, or the constantly evolving work we do hand-in-hand with our community of practitioners and partners.
As we continued building our collection of on-demand webcasts, event recaps, videos, blog posts, articles, reports, eBooks, and partner resources, something dawned on us. To support your efforts to be better, we need to be better too.
As a team, we realized the need to make it easier for all of you to discover, enjoy, and leverage these materials that have been so painstakingly crafted.
So, we took on the challenge. Today we're excited to share the fruits of our labor: Ethisphere's brand new Resource Center — a one-stop-shop for curated research, editorials, reports, and videos from — and tailored to — the ethics, compliance, and culture community.
There are a few conscious choices we made while building this digital hub of industry knowledge to improve your experience and save you time, which we're excited to share with you below.
Forms: One and Done
If you want to read five reports, watch an on-demand webcast, and download an eBook, you shouldn't have to complete a form seven times. Now you don't have to. Once you complete a form for the first time by accessing a piece of content in the Resource Center, 95% of the time, you'll never have to fill one out again.
If you are using a different device, for example, your work computer and your personal phone, you may have to complete the form once on each device. The intent was to make reading and engaging with this work easy and frictionless for you in the long term.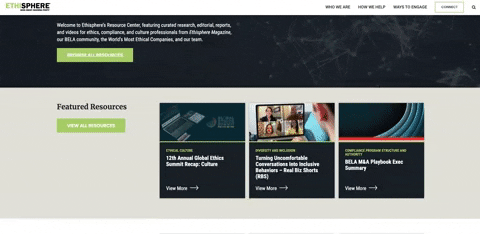 Find What You Need – Now Easier than Ever!
The new Resource Center comes with two distinct filtering options: by Topic and by Content Type. This will help you find what you are looking for as fast as possible – or explore a specific topic of interest to discover something new.

You can filter down by Topic, such as Ethical Culture, Training and Communications, Leadership, Data and Benchmarking, Harassment and Discrimination, and more.

You can filter by Content Type, such as On-Demand Webcasts, Videos, Blogs, Articles, and more.

In addition to these two filtering options, you can also search by any term or word to find everything that fits that topic across all topics and content types.

Best of all, you can use all three together, finding a specific blog post about culture focused on data and benchmarking.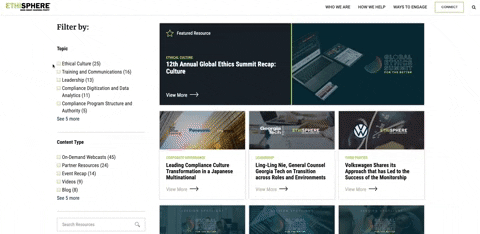 Designed for Any Device
Whether you are on your phone, tablet, or computer, the resource center will be easy to navigate and enjoy. We know that you aren't always at your desk when you have a few minutes to learn and improve, so we wanted to accommodate all the different ways you may do that.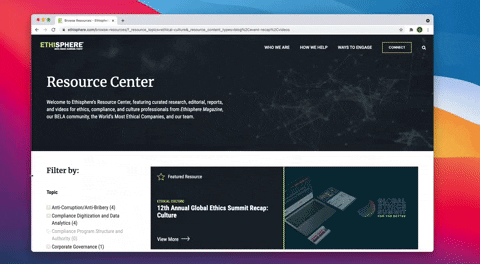 ---
---
Our first "Featured Resource" is the 12th Annual Global Ethics Summit Recap, explicitly focused on culture.

The PDF document contains insights and highlights from over a dozen culture-focused sessions and panels from the virtual event, led by a group of more than 40 faculty members and subject matter experts. In addition to the PDF, links to highlight reels from each session are available, linked throughout the document.
---
This is something we intend to continuously improve — just like a healthy compliance program. So if you have any feedback or suggestions about our new Resource Center, get in touch! Email: alina.ruzmetova@ethisphere.com.