Align Your Program
With Best Practices
Benchmark your company's practices against Ethisphere's unparalleled data
set, including leading practices and industry benchmarks.
An Independent, Third-Party Evaluation Against Companies in Your Peer Group
Regardless of program maturity, our evaluation helps guide internal conversations, resource planning, and practical decision-making. The resulting scorecard and report are turn-key and provides insights on where your company stands relative to leading companies.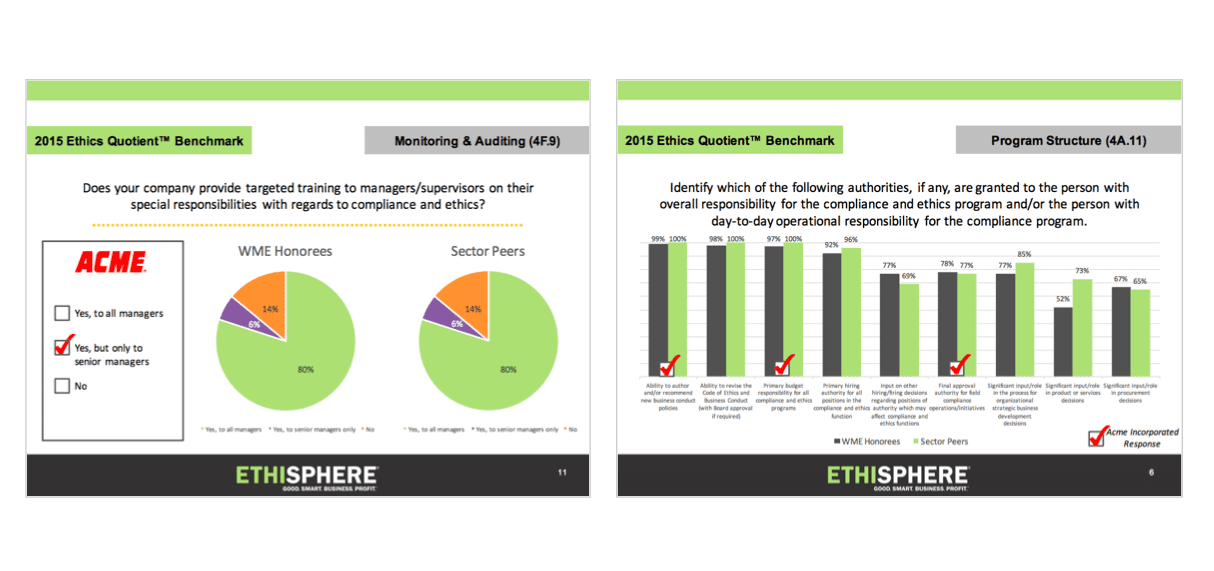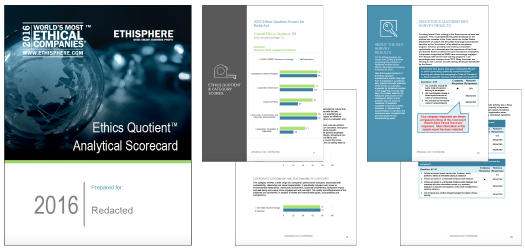 A Temperature Check
The Ethics Quotient® Survey is based on Ethisphere's proprietary methodology and offers companies the opportunity to assess and compare their program and practices against the World's Most Ethical Companies®.
The Benefits of Measurement and
Evaluation Through Benchmarking

Guide Planning
Regardless of program maturity, an independent, third-party evaluation against companies in your peer group helps guide internal conversation, resource planning, and practical decision-making.

Shine a Light on Gaps
Insights about leading companies and best practices shine a light on program gaps and stimulates collaborative thinking and action across the organization.

Enhance Credibility
Your credibility with senior leaders is enhanced with Ethisphere's "Peer Benchmarking Presentation" that highlights key findings and recommendations in comparison to organizations like yours.

Gain Insight
By interacting with Ethisphere analysts in a "findings consultation" you're able to ask questions specific to your situation and gain a more robust view into your responses vs. those of others.
Download a sample redacted scorecard for a glimpse at the types of data we collect and the insight you will receive from going through the survey!