Assess, Benchmark, and Improve Your
Trade Secret Protection and IP  Programs
Trade secrets and IP – confidential business and technical information – are a company's crown jewels.
Are they safe from theft or misuse?
Ethisphere's Trade Secret Protection service helps companies prevent the theft and misappropriation of business critical information. The three-step service offers a practical way to assess and then improve your own internal business processes – or that of your supply chain and business partners – for trade secret protection.
A practical and comprehensive way to put processes in place to protect trade secrets and other confidential information.

Based on best practices from global companies and experts in intellectual property and trade secret protection.

Scalable to organizations of all sizes; tailored to specific requirements and needs. An eLearning course – Protecting Trade Secrets – is also available.
How it Works
Ethisphere's Trade Secret Protection service builds on existing your business processes.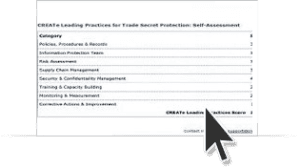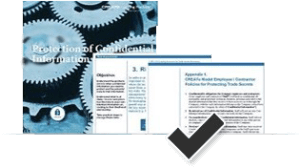 Online Self-Assessment
The first step is to measure existing business processes for protecting trade secrets. This online, 60- to 90-minute self-assessment evaluates the maturity of your company's – or your business partner's – current business processes for trade secret protection in eight categories. Upon completion, you will receive scores in each category and a composite score. This gives you an immediate picture of the strengths and weaknesses of your program.
Expert Evaluation
In this step, you gain valuable insights from our experts in a discussion about the self-assessment and documents related to your business processes for trade secret protection. You will have an opportunity to ask questions, elaborate on your current practices, and discuss ways to make improvements. After the independent evaluation, we'll give you a second set of scores and provide an expert analysis based on the evaluation. We'll also deliver a benchmark report comparing your scores to the blinded, aggregated scores of other companies that have also taken the self-assessment and independent evaluation. To help guide future improvements, you will receive a summary report with specific, actionable recommendations and suggested priorities for improvement.
Improvement Project
and e-Learning
To help your company put a program in place, we will provide you with resources and guidance to improve your program. You will receive checklists, sample trade secret policies, an overview of recommended procedures and other practices to help protect your business critical information. Additionally, you will gain access to the e-Learning course: Protecting Trade Secrets.
WHAT OUR CLIENTS ARE SAYING
The Trade Secrets Protection service complements our approach and can be built onto our existing management system to better protect our trade secrets and other intellectual property.