Ethical Culture and
Perceptions Assessment
Transparency is the hallmark for attracting and retaining good people.
Measure, compare, and impact your company's culture quotient.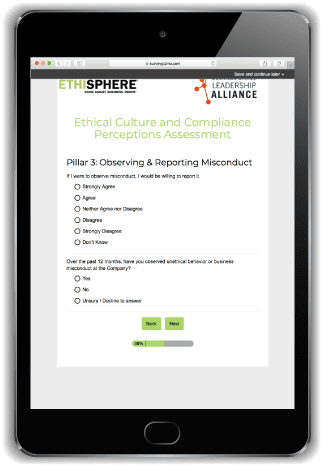 Full Service, Actionable Insights
Ethisphere's ethical culture assessment and reporting engine enables companies to benchmark programs against leading practices and our data set consisting of over 425,000 responses, representing an employee base of over 3 million.
Easy for you: Select questions from our extensive list; Ethisphere manages the rest.
Valuable for employees: Guaranteed anonymity and a 5 to 8 minute survey available on phones, laptops, or tablets.
Actionable for the C-Suite: Analytics that allow company leaders to identify areas of organizational strength, opportunities to improve, and trends over time.
The Best Companies Measure Culture

The Best Companies Measure Culture
The Process to Survey Your Global Workforce
Our Culture Assessment process is designed to meet your objectives and on average takes 10 weeks.
Unlimited, Client-Driven Data Reporting
Our cloud-based reporting application–Culture Quotient–allows you to conduct unlimited data analysis to gain insights into areas of success and of concern. Generate your own internal, multi-demographic comparison reports and assess your results against Ethisphere's benchmark data set.
Spotlight | Culture Leading Practices
Turning Data Into Direction
How do employees report ethics concerns?
If you think it's the hotline–think again. Ethisphere proprietary data shows that 66% of employees who choose to report ethical concerns do so to their manager, over other reporting options. This indicates that resources dedicated to your compliance program are well spent in training your managers in how best to respond.