Measure and Increase
Your Culture Capital
Get an in-depth look at your culture with our assessment
and reporting engine grounded in our Eight Pillars of Ethical Culture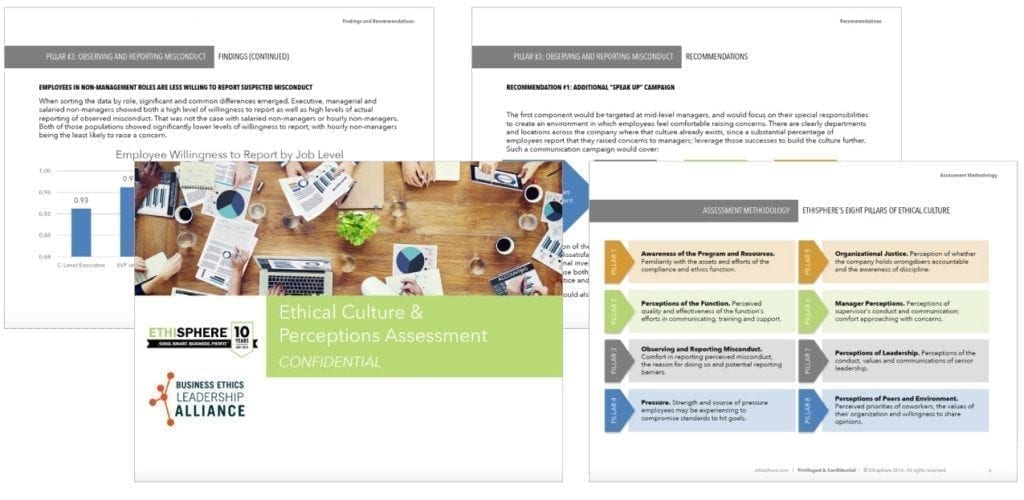 Gain Insight Into Your Most Critical Asset–Your Employees
Ethisphere's internal compliance and data experts have designed a full-service, survey-driven culture measurement and assessment methodology to evaluate the effectiveness of your organization's communication, training, and compliance efforts and how willing employees are to raise a concern.
Culture Quotient: Interactive, Client-Driven Data Reporting
Our cloud-based reporting application–Culture Quotient–allows you to conduct unlimited data analysis to gain insights into areas of success and of concern. Generate your own internal, multi-demographic comparison reports and assess your data against Ethisphere's benchmark.
Our Evaluation is Grounded on These
8 Pillars of Corporate Culture

Awareness of Program & Resources
How familiar are employees with the resources available to them through the compliance and ethics function to help them make decisions and raise concern?

Perceptions of the Function
What do employees think of those resources? Do they feel like the policies give good guidance and the training is effective?

Observing & Reporting Misconduct
Are employees comfortable raising concerns? Why – or why not? And when they have questions, where do they go with them?

Pressure
Are employees experiencing pressure to compromise company values or policies to achieve business goals? How strong is that pressure – and where might it be coming from?

Organizational Justice
When things go wrong, do employees believe the company takes that seriously? Do they see all employees being treated the same? Or are there some who get preferential treatment?

Manager Perceptions
What do employees think of their supervisor? Are they comfortable going to her with questions? Do they see her as a good ethical role model?

Perceptions of Leadership
What do employees think of senior leadership? Do they believe the leadership team is committed to doing business the right way?

Perceptions of Peers and Environment
How do employees see their peers? Do they believe their coworkers are committed to the company's values? Do they see an environment where people are supported in raising questions or expressing concerns?
Conversations & Expertise on Ethical Culture