Ethisphere Names Erica Salmon Byrne as Chair and Kevin McCormack as Executive Director for the Business Ethics Leadership Alliance (BELA)
Byrne and McCormack to align new responsibilities in support of the growth and evolving vision of the BELA community
Ethisphere, a global leader in defining and advancing standards of ethical business practices, announced during its annual Global Ethics Summit in March that Erica Salmon Byrne has been promoted to Chair of the Business Ethics Leadership Alliance (BELA) and Kevin McCormack is elevated to the role of Executive Director for the member-based community of companies working together worldwide to advance integrity and improve company performance. BELA currently consists of 250+ enterprise member companies representing 30 industries and headquartered in 15 different countries.
As Chair of BELA, Ms. Byrne will focus more closely on developing innovative programs that enable members to improve measurement and reporting capabilities to ensure that they adhere to robust ethics and compliance programs. Ms. Byrne will also expand her work with boards of directors and senior leadership teams.
In line with his new responsibilities for BELA, Mr. McCormack will spearhead the creation of new executive leadership channels across the BELA community and lead the expansion of BELA chapters in pivotal global markets. He will also continue to serve as the point person for the development of events and forums around the world, including Ethisphere's flagship Global Ethics Summit, and the immersion of BELA-based company leaders in these programs.
As BELA continues to grow, I am both humbled and pleased by the faith that the community has placed in BELA. I look forward to supporting Kevin and his work with the community, and I am eager to get to work on behalf of our clients through my new responsibilities
Driven by a global desire to advance integrity, in 2017, BELA expanded to South Asia. The South Asia Chapter includes a community of over 20 select multinationals who have taken on a leadership role in inspiring best practices in ethics, integrity, and anti-corruption efforts across India and South Asia. Moreover, the BELA community has emerged as an essential platform of connected leadership vital to helping companies improve standards and practices across both global and regional business ecosystems.
"A growing number of cutting-edge companies and their stakeholders correlate superior long-term performance with business integrity, and they are increasingly turning to the BELA community to help capture, codify, and share the latest leading ethical practices," said Ethisphere Chief Executive Officer Tim Erblich. "Ms. Byrne and Mr. McCormack have a long history of providing executives with insights into how successful companies are navigating the complex business environment to enable organizations to support and challenge one another. Companies who rely on the BELA community and its global networking opportunities, resources, and data-driven insights are in good hands with Erica and Kevin."
"As BELA continues to grow, I am both humbled and pleased by the faith that the community has placed in BELA. I look forward to supporting Kevin and his work with the community, and I am eager to get to work on behalf of our clients through my new responsibilities," Ms. Byrne said.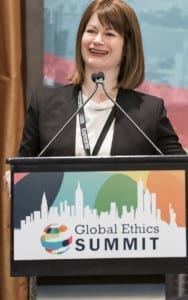 Ms. Byrne [pictured] is a recognized expert and thought leader with deep expertise in measuring ethics and compliance programs to advance ethical business practices and improve business performance.  She hosted the on-demand web video series Inside Compliance and shared the host chair of another on-demand web series from NYSE Governance Services, This Week in the Boardroom. She is a frequent speaker and author on topics relating to data, ethics, compliance, and governance.
Ms. Byrne also practiced with DLA Piper in Washington, DC, where she focused on the areas of internal investigations, enforcement actions, government audits, and international law.
Companies that are part of the BELA community have the opportunity to enable executive decision-making and resource calibration and to measure their own programs through data-driven benchmarking as an independent evaluation of ethics and compliance programs and analysis of best practices relative to other leading companies' programs.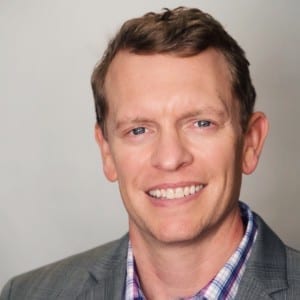 "I look forward to expanding my role with the companies that comprise our BELA community, which recognizes that ethical progress is made easier through a collaborative approach and shared values. BELA is at the forefront of these conversations, influencing business and compliance strategy and tackling the complexities of business functions together. I am eager to work closely with the BELA community to enhance its vision and purpose, and so appreciative of the trust that Tim, Erica, and the BELA members have placed in me to support this mission at a global level," Mr. McCormack [pictured] said.
Mr. McCormack spent over a decade at Thomson Reuters, where he had primary responsibility for content development and partner relations at West LegalEdcenter, featuring the most comprehensive online collection of Continuing Legal Education (CLE) content in the world. Mr. McCormack holds a JD from the University of North Dakota School of Law and an MBA from the Carlson School of Management, University of Minnesota.
BELA members receive enterprise-wide access to a special online resource center, which features dozens of company contributed content with multiple modalities of information that are intended for immediate download and use. Members stepping in to share their expertise include Microsoft, Allstate, Mahindra, Nokia, Starbucks, Dell, VF Corp, U.S. Bank, Hilton, and more.
In addition to these resources, members also have the opportunity to download Ethisphere surveys, "focused facts" reports and research, presentations, exclusive podcast interviews, and webinars. The BELA community has access to a robust portfolio of in-person summits, forums, and more than 30 peer-to-peer roundtables hosted by BELA member companies, held each year in major U.S. cities and key international markets as a platform for shared ideas and practical conversations on the most pressing challenges impacting compliance with a diverse set of leaders and stakeholders.
About BELA
Founded by Ethisphere, the Business Ethics Leadership Alliance (BELA) is a globally recognized organization of leading companies collaborating together to share best practices in governance, risk management, compliance, and ethics. BELA's membership has since grown to a large community of companies who recognize the inherent value of promoting ethical leadership and world-class compliance culture. Learn more about BELA by visiting http://bela.ethisphere.com. To nominate a company to join BELA, contact Director of Member Engagement Sarah Neumann at [email protected].
About Ethisphere 
The Ethisphere® Institute is the global leader in defining and advancing the standards of ethical business practices that fuel corporate character, marketplace trust, and business success. Ethisphere has deep expertise in measuring and defining core ethics standards using data-driven insights that help companies enhance corporate character. Ethisphere honors superior achievement through its World's Most Ethical Companies® recognition program, provides a community of industry experts with the Business Ethics Leadership Alliance (BELA), and showcases trends and best practices in ethics with Ethisphere Magazine. Ethisphere also helps to advance business performance through data-driven assessments, benchmarking, and guidance. More information about Ethisphere can be found at https://ethisphere.com.
###
Media Contact
Aarti Maharaj
646-480-9715
[email protected]
@Ethisphere