NEW YORK, March 15, 2018 – The Ethisphere® Institute—a global leader in defining and advancing the standards of business practices—announces a combination with CREATe Compliance, an organization focused on enabling enterprises to better manage internal and third-party risks. Together the companies bring expanded expertise, data and services to enable global companies to benchmark and measure the maturity of their programs addressing top risks and incorporate leading practices to intelligently enhance performance.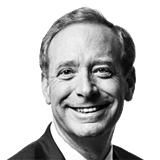 "Companies today have a responsibility, and an opportunity, to raise the bar on corporate integrity and set a standard that inspires trust among customers, employees and shareholders. Ethisphere combining with CREATe Compliance brings together two complementary approaches to helping companies foster a stronger values-based leadership and the robust and effective programs to back it up," said Brad Smith, President and Chief Legal Officer, Microsoft (pictured right).
"Our Business Ethics Leadership Alliance (BELA) community companies are leaders who are committed to advancing business integrity and performance. In this spirit, we are excited about combining with CREATe Compliance and expanding our platform to offer a range of innovative ways for global companies to address key issues, share leading practices and gain powerful guidance for decision-making," said Tim Erblich, CEO of the Ethisphere.
"Ethisphere has an unparalleled depth of benchmarking insights into corporate behavior. Combining our resources and capabilities to help companies and their third parties improve cybersecurity, anti-corruption, intellectual property and trade secret protection with the CREATe Leading Practices 'measure and improve' approach is simply a smart thing to do, not just for us, but for our respective client bases," stated Pamela Passman, CEO of CREATe Compliance (pictured right).
"Working with CREATe Compliance during the past four years has enabled Grupo Bimbo to measure the maturity of our business practices, track improvements, and report the current state of our compliance programs to our C-suite, board and other stakeholders. Bringing CREATe Leading Practices together with Ethisphere's data-driven insights, in particular the culture survey, provides a comprehensive view to intelligently enhance value and performance," said Ignacio Stepancic Markaida, Compliance Director, Grupo Bimbo.
"We have a long relationship with Ethisphere and the Business Ethics Leadership Alliance and are delighted to see the combination with CREATe Compliance. Ultimately, we are hopeful the combination of Ethisphere and CREATe Compliance will help companies navigate the global landscape to drive value for customers, employees and shareholders," said Sonny Cave, Executive Vice President, General Counsel, Corporate Secretary, Chief Risk Officer and Chief Compliance and Ethics Officer – ON Semiconductor.
Together, Ethisphere and CREATe Compliance will provide companies with the vision and resources to achieve transformational impact. This platform will include opportunities for companies to collaborate and define leading practices for top issues, access actionable performance data, and leverage CREATe Compliance expertise and services for benchmarking and improving programs in a consistent and comprehensive way.
Learn more: Join Ethisphere and CREATe Compliance in a webcast – Tapping Into Transformational Practices: Leading Insights on Measuring and Improving Company Performance – Register here
Full release available on BusinessWire.
About Ethisphere
The Ethisphere® Institute is the global leader in defining and advancing the standards of ethical business practices that fuel corporate character, marketplace trust, and business success. Ethisphere has deep expertise in measuring and defining core ethics standards using data-driven insights that help companies enhance corporate character. Ethisphere honors superior achievement through its World's Most Ethical Companies® recognition program provides a community of industry experts with the Business Ethics Leadership Alliance (BELA), and showcases trends and best practices in ethics with Ethisphere Magazine. Ethisphere is also the leading provider of independent verification of corporate ethics and compliance programs, including Ethics Inside® Certification and Compliance Leader Verification™. More information about Ethisphere can be found at https://ethisphere.com.
About CREATe Compliance
CREATe Compliance helps companies to embed a cycle of monitoring, measurement and improvement to build and strengthen effective compliance and risk management programs through its CREATe Leading Practices services:
CREATe Leading Practices for Anti-Corruption
CREATe Leading Practices for Cybersecurity
CREATe Leading Practices for Trade Secret Protection
CREATe Leading Practices for IP Protection
This consistent "measure and improve" approach across key risk areas enables benchmarking and sharing across the global supply chain.
For Ethisphere
Aarti Maharaj, 646-480-9715
aarti.maharaj@ethisphere.com