The Program Responds to Growing Oversight of ESG by Ethics and GRC Functions at Corporations and Will Showcase Best Practices in ESG Program Management
NEW YORK, May 26, 2021 (Newswire.com) – ​​​ Ethisphere, a global leader in defining and advancing the standards of ethical business practices, and Parsons Corporation (NYSE: PSN) announced today that they will partner to create a platform for multinational companies to gather and showcase best practices in environmental, social, and corporate governance (ESG) program management, KPI development, and reporting as part of a virtual ESG Summit, which will take place Wednesday, July 14 – Thursday, July 15.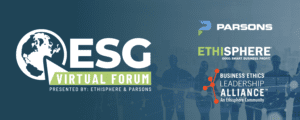 The Summit, which continues a multiyear partnership between Ethisphere and Parsons designed to elevate best practices in ethics and compliance programs globally, was created in response to the growing need of ethics and GRC leaders to maintain oversight of global ESG programs and will showcase examples of how best in class companies run ESG programs at their respective organizations.
"Over the past 10-12 months, it's clear that ESG has been elevated to the forefront of GRC conversations across forward-thinking companies. The speed at which it has joined the forefront of ethics and compliance priorities is a clear sign that E&C leaders must develop a comprehensive plan for managing a strong ESG program," said Stefan Linssen, Executive Vice President of Global Partnerships for Ethisphere. "We're excited and honored to collaborate with Parsons Corporation on this project and to partner once again to bring together best-in-class companies from around the globe to address a key business concern, including how to manage an effective ESG program, while measuring and defining success."
Some of the highlights of the ESG Summit will include discussions on how organizations can define the right KPIs related to ESG data from across the company and ways it can be leveraged to understand ESG risks and capabilities. Equally important, the summit will address how to effectively report on program effectiveness and accomplishments across a range of stakeholders.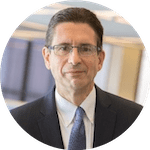 "An effective approach to ESG requires the ability to measure and report on performance, which begins with identifying and establishing meaningful goals, objectives, and metrics," said Mike Kolloway, Chief Legal Officer, Parsons Corporation. "It relies on transparency and accountability on matters that inspire change while helping companies deliver on their ultimate missions-a key component of our ongoing collaboration with Ethisphere. We want all companies to recognize this important need in our society for businesses to not only recognize their role in the overall ecosystem but to prioritize it."
The Summit is part of a broader focus on ESG that Ethisphere and its Business Ethics Leadership Alliance (BELA) Community of companies have committed to prioritizing in their activities throughout 2021. This initiative will provide actionable tools and insights shared broadly with the global ethics and GRC community.
Parsons CARE (Cultivating A Responsible Enterprise) approach to ESG includes an ongoing commitment to minimizing the company's impact on the planet through innovative solutions, advancing a diverse community of innovators and an empowered workforce, and adhering to guiding principles that set expectations for integrity, ethics, and oversight in their ongoing operation. Based on six core values, including safety, quality, integrity, diversity, innovation, and sustainability, Parsons' ESG strategy and corporate responsibility initiatives continue to uphold the company reputation for doing good work while providing value to customers, shareholders, and the communities in which they live, work and play.
The ESG Summit is scheduled to take place on Wednesday, July 14th-15th 2021, and more details can be found here: https://hubs.li/H0N-60r0
###
About Ethisphere 
Ethisphere® is the global leader in defining and advancing the standards of ethical business practices that fuel corporate character, marketplace trust, and business success. Ethisphere has deep expertise in measuring and defining core ethics standards using data-driven insights that help companies enhance corporate character. Ethisphere honors superior achievement through its World's Most Ethical Companies® recognition program, provides a community of industry leaders with the 325+ member companies of the Business Ethics Leadership Alliance (BELA), and showcases trends and best practices in ethics with Ethisphere Magazine. Ethisphere also helps to advance business performance through data-driven assessments, benchmarking, and guidance. More information about Ethisphere can be found at https://www.ethisphere.com. Follow us on Twitter @Ethisphere.
About Parsons 
Parsons (NYSE: PSN) is a leading disruptive technology provider in the global defense, intelligence, and critical infrastructure markets, with capabilities across cybersecurity, missile defense, space, connected infrastructure, and smart cities. Please visit parsons.com and follow us on LinkedIn and Facebook to learn how we're making an impact.
###
Ethisphere Media Contact
Aarti Maharaj
Director of Communications
Aarti.maharaj@ethisphere.com, @Ethisphere
Parsons Media Contact
Bryce McDevitt
Sr. Director of Communications
Bryce.mcdevitt@parsons.com, @ParsonsCorp