Microsoft President & CLO Brad Smith and Deputy GC David Howard Join Ethisphere for an Examination of Trust in Today's Business Environment
Microsoft leaders shine the spotlight on social purpose, the importance of culture, and the power of corporate voice.
New York, NY – February 15, 2018 –  The Ethisphere Institute, a global leader in defining and advancing standards of ethical business practices, joined Microsoft President and Chief Legal Officer, Brad Smith, and Microsoft Head of Litigation, David Howard, for a behind-the-scenes conversation at the headquarters of the iconic tech company and industry pioneer.
Under the premise of companies sharing leading practices and communally working to improving corporate behavior, Ethisphere has served as a convener of respected institutions, like Microsoft, to examine the purpose and values behind a wide range of business objectives. Ethisphere CEO, Tim Erblich, and Ethisphere EVP and Executive Director for the Business Ethics Leadership Alliance (BELA), Erica Salmon Byrne, conducted the two-part video interview with Microsoft, both a pivotal BELA member company and the co-chair of Ethisphere's 2018 Global Ethics Summit.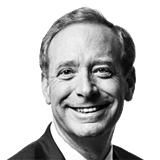 In the first conversation, Brad Smith (pictured right) spoke with Tim Erblich about why companies are taking a greater stance on societal issues and the importance of long-term sustainable performance. Smith spoke about embracing value-based leadership and integrity, seeking the voice of companies, using social purpose to guide both business strategy and culture, and collaborating with Ethisphere. Below are excerpts from the conversation with Brad Smith.
On Integrity:
"Don't put your integrity at risk. Do not do it as an individual. Do not do it for your team or your department or your company … Integrity is a skill that we need to invest in helping people learn because it often requires the ability to spot an issue, to use judgment and exercise the courage to know when to raise your voice."
On Social Purpose:
"Companies that are thinking about something bigger than themselves and are thinking about their broad societal mission and contribution are likely to create more value. Employees today are asking their employers to take on issues that matter to them to speak out and especially to address these issues when they relate to their needs — and they have high expectations." 
On Corporate Voice:
"We live at a time where I do think companies need to find their voice and for some, their courage, and the more that we can do to help others do that, I think the better off we all are."
On Ethisphere:
"[Ethisphere] is raising the bar, you're providing perspective in judgment and resources and tools that all of us benefit from … you're going to help us identify where we need to go."
Smith also focused on the issues that Ethisphere address to help companies measure and progress business conduct and performance, where he stated, "The key is to combine a growth mindset with a clear understanding that there are some risks that you should not take.  There are some values that are so steadfast that you must never sacrifice them."  Ethisphere has been tasked with taking a leading role in that function through its daily work and collaboration with companies like Microsoft and hundreds of other multinational institutions.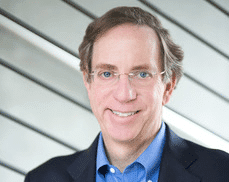 In the second conversation, Ethisphere's Erica Salmon Byrne sat down with both Smith and David Howard (pictured left).  Together they explored in more depth Microsoft's views on trust in the age of cloud computing, the company's upcoming oral arguments in front of the Supreme Court, the emerging age of artificial intelligence, the core value of trust, and much more.
According to Howard, who oversees all of litigation and compliance for the company, trust is the central tenet of everything the company does and is even more essential now with digital information as precious as ever. "For us, it all comes down to the issue of trust and the how important it is that our customers all over the world are able to trust what Microsoft does with their most precious information," said Howard. "Whether its baby pictures or emails, personal journals, and diaries, there has been a huge change in the way people store information."
David Howard will join leaders from GE and Intel to explore the impact of artificial intelligence on compliance and business transformation at the 10th Annual Global Ethics Summit, hosted in New York City, March 14-15 of this year.
Microsoft, whose mission is to empower every person and every organization on the planet to achieve more, has emerged as one of the leaders to take on broader societal responsibilities. Most recently, the company has publicly voiced their position on issues ranging from DACA to diversity and inclusion, issues also touched upon at certain stages of conversation with Ethisphere.
To view the conversation with Brad Smith and Tim Erblich, Ethisphere has shared the video on the Ethisphere's homepage click here to view.
To view the conversation with Erica Salmon Byrne, Brad Smith, and David Howard, Ethisphere has shared the video on the homepage for its 10th Annual Global Ethics Summit.
About the Business Ethics Leadership Alliance
The Business Ethics Leadership Alliance (BELA) was founded by Ethisphere Institute after the financial crisis of 2008. Founding members include General Electric, PepsiCo, Walmart, JLL, and a unique foundation of visionary multinational institutions who understood that continuous improvement was best addressed through shared values and collective action. BELA's membership has evolved to form a large community of companies who recognize the importance of benchmarking and shared insights and the inherent value of promoting ethical leadership and world-class compliance culture. Learn more about BELA by visiting http://bela.ethisphere.com. To nominate a company to join BELA, contact Director of Member Engagement Sarah Neumann at [email protected].
About Ethisphere 
The Ethisphere® Institute is the global leader in defining and advancing the standards of ethical business practices that fuel corporate character, marketplace trust, and business success. Ethisphere has deep expertise in measuring and defining core ethics standards using data-driven insights that help companies enhance corporate character. Ethisphere honors superior achievement through its World's Most Ethical Companies® recognition program provides a community of industry experts with the Business Ethics Leadership Alliance (BELA), and showcases trends and best practices in ethics with "Ethisphere Magazine". Ethisphere is also the leading provider of independent verification of corporate ethics and compliance programs, including Ethics Inside® Certification and Compliance Leader Verification™. More information about Ethisphere can be found at https://ethisphere.com. Ethisphere's 2018 Global Ethics Summit takes place March 14-15 in New York City: https://www.globalethicssummit2018.com/.
Media Contact
Aarti Maharaj
Director of Communications
646-480-9715
[email protected]
Twitter: @Ethisphere