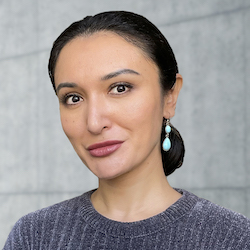 Alina Ruzmetova
Director, Inbound Marketing
Alina Ruzmetova is the Director of Inbound Marketing at Ethisphere.
Her previous experience includes roles and special projects with GoodWeave International, the U.S.-Russia Business Council, the United Nations Development Program (UNDP) Bosnia and Herzegovina, and the Office of the United Nations High Commissioner for Refugees (UNHCR) Ukraine.
Ms. Ruzmetova serves on the National Democratic Institute's (NDI) Young Professionals Advisory Council (DC Chapter). She has an MA in Global Communication from the Elliott School of International Affairs at the George Washington University; and a BA in International Studies from Ohio Wesleyan University.