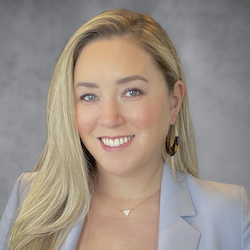 Jessica Morin
Event Experience Manager
Prior to joining the team at Ethisphere, Jessica has been a significant leader in the event space. She has spent nearly a decade as an event planner and marketer in a variety of industries such as retail, HR, legal, professional development, and the spirits industry.
You may know her from BLR where where she curated over 25 legal conferences, and countless webinars and virtual master classes, but she can also be credited with contributions to the School of Visual & Performing Arts at Belmont University.
Whether it's elevating brand awareness, maximizing lead generation, or increasing revenue, Jessica is driven by her desire to help others succeed while providing an unforgettable experience for everyone.
When not trying to crush goals at the office, you may find Jessica teaching a standup paddle board class or trying out the latest new restaurant. She enjoys photography and loves to hike, workout and explore new places, locally and around the globe.
Jessica received her Bachelor of Arts degree in Public Relations Management from Belmont University in Nashville, TN where she currently resides with her family and beloved yorkie.
"People don't spend money on your products, they spend money on the experience you give them"