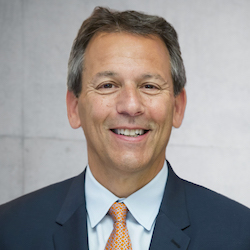 Timothy Erblich
Chief Executive Officer
Timothy Erblich is the Chief Executive Officer of Ethisphere, the global leader in defining and advancing the standards of ethical business practices. As CEO Mr. Erblich is responsible for ensuring strong growth for the company through his charting of long and short-term strategies aimed at developing standards and best practices for companies who are committed to ethical business practices. Mr. Erblich is currently a Board Member on the American Diabetes Association (ADA) Research Foundation Board.
Prior to his time at Ethisphere, Mr. Erblich served as President of NYSE Governance Services, a leading governance, compliance, and education solutions provider for companies and their boards of directors. He spent more than 20 years in executive roles at Thomson Legal & Regulatory, now Thomson Reuters. During this time, he led efforts to serve the AMLAW 100 channel across the Thomson North American Legal business. Prior to that, Mr. Erblich led the strategy and development surrounding Thomson's growth in the corporate legal & regulatory sector.
An acknowledged thought leader on business ethics, Mr. Erblich frequently speaks before boards of directors, executive leadership programs, and at global industry events. He has presented to global multinational companies on ethics, governance, and the value of prioritizing a long-term, programmatic approach to business and ever-evolving societal trends. He is often requested to present at prestigious events such as the RFK Center for Justice and Human Rights Compass program for institutional investors, the SRI Conference on Sustainable and Responsible Investing, the UK's Global Law Summit, NYSE's "This Week in the Boardroom", the Annual Boardroom Summit, the Annual General Counsel Forum, Ethisphere's Best Practices in Ethics and Communications Workshops, the Global Ethics Summit, and the annual meeting of the Association of Corporate Counsel.
In addition, Mr. Erblich regularly convenes discussions with top leaders in the ethics and compliance space for the Ethisphere community including former PepsiCo Chairman and CEO Indra Nooyi, Microsoft President Brad Smith, former United States Senator Bill Bradley, and Walter Isaacson of the Aspen Institute.
Mr. Erblich has authored several articles for industry magazines and journals including Forbes, the Huffington Post and the Asian Institute of Finance. He has appeared on numerous television news programs across the United States and has provided expert analysis for journalists at various top tier and trade publications.
He graduated from the University of Arizona and has participated in the Thomson Executive Leadership development program in partnership with Columbia University.